​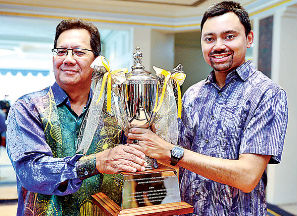 His Royal Highness Prince Haji Al-Muhtadee Billah ibni His Majesty Sultan Haji Hassanal Bolkiah Mu'izzaddin Waddaulah, the Crown Prince and Senior Minister at the Prime Minister's Office, consented to present prizes at the Inter-Ministries Golf Championship in conjunction with the 20th Civil Service Day. The ceremony took place at the Royal Brunei Golf and Country Club in Jerudong.
Upon arrival, His Royal Highness was welcomed by the Second Minister of Finance at the Prime Minister's Office, Yang Berhormat Pehin Orang Kaya Laila Setia Dato Seri Setia Haji Awang Abdul Rahman Bin Haji Ibrahim and the Director General of Civil Service, Awang Jaini Bin Haji Abdullah.
His Royal Highness first consented to present the Novelty Prizes (Nearest to the pin) to 4 winners and then presented prizes to other winners. The Division 'C' NETT 19 to 24 handicap was won by Awang Abdullah Haji Ahad from the Ministry of Education. Division 'B' Nett 12 to 18 handicap was won by Awang Khairul Haji Bakar from the Ministry of Development. The Best in the Nett Category was a golfer from the Ministry of Defence, Awang Azmi Haji Osmar while the Best Gross was from the Ministry of Home Affairs, Awang Kilali Haji Munchit. Yang Arif Dato Seri Setia Haji Mohammad Zaimi Haji Talip from the Prime Minister's Office won in the VIP Category.
The winner of the Team event was the Ministry of Development who also took the Rotatory Trophy donated by His Royal Highness.
His Royal Highness the Crown Prince then consented to receive a Pasambah from the tournament's organising committee.
His Royal Highness also consented to receive the junjung ziarah from the participants. The championship was conducted by the Civil Service Department, the Prime Minister's Office. Also present were Cabinet Ministers, Deputy Ministers, Permanent Secretaries, Deputy Permanent Secretaries, Senior Officials and other government officers. The Golf Championship in conjunction with the Civil Service Day was meant to strengthen unity and cooperation among officers and staff, as well as instil sportsmanship among Ministries and the department that took part.
News courtesy of Radio Television Brunei
Photo courtesy of Media Permata